The Jewish Federation of Greater Vancouver is taking information protection seriously by adopting cyber security measures. The federation recently took action to shore up its data protection strategy due to recent rises in extremism in Canada and the United States and the widespread threats to the Jewish community becoming more widespread.
There is no doubt that hackers are trying to gain access to information for many ill motives.
Whether it is to sell information for profit, to hold information ransom or to compromise information to harm a community - hackers are on the loose and want your data. Information keepers must analyze their data and protect it from harmful criminals or the consequences could be significant.
This past February, at the Orthodox Union's annual leadership mission in Washington, the U.S. Deputy Homeland Security Secretary, Alejandro Mayorkas, said the rising extremism in the United States and its threat to the Jewish community keeps him awake at night.
He went on to say that, "...the need is most acute in the Jewish community because of the ascension of anti-Semitism and hate crimes we see." He also said that hackers could access personal information about Jewish children who are affiliated to Jewish organizations and use it to target them.
Cyber security threats are extremely serious situation and to the Jewish community.
The federation in Vancouver is being diligent by analyzing and changing their overall security posture. They have partnered with Safe-T Data for Secure Data Access and Software Defined SDA controls to maximize data protection.
This secure sharing platform, that enables for all electronic communications and data access with other organizations and law enforcement agencies, has increased cyber security at their network's perimeter, tightened access controls to all of their data and strengthened encryption of information— at rest and in transit.
All of these actions together makes it more difficult for criminals to gain access to their information and will prevent any potential harm to their community.
10 Tips For Keeping Information Secure in Your Organization
Only exchange information over a secure channel

Only use secure email both as a sender and a receiver

Encrypt all information once received

Scan all paper documents into a secure encrypted vault for

safekeepingsafe keeping

Back up information and keep an audit trail of documents sent and received

Only provide a secure portal for community members to upload documents

Scan incoming documents to protect against a virus and scan outgoing documents to prevent loss of information by an inside source

Use proper identity and access management tools

Use a secure connection when using mobile devices; VPN's can expose the network

Use a

Software Defined SDA

solution when interacting with cloud storage (i.e. Box, Dropbox, Google Drive)
Protecting Your Community with Safe-T Data's Secure Data Exchange (SDE)
Safe-T®'s Secure Data Exchange (SDE), a component of the Safe-T High-risk Data Security solution, is the most complete secure data exchange solution, protecting both inbound and outbound data exchange.
It enables organizations to broker, control and secure data exchange of any type and size between people, applications, cloud solutions, and businesses. It is designed to rapidly add security and control across a wide variety of data exchange patterns for enterprises of all types including to and from the cloud.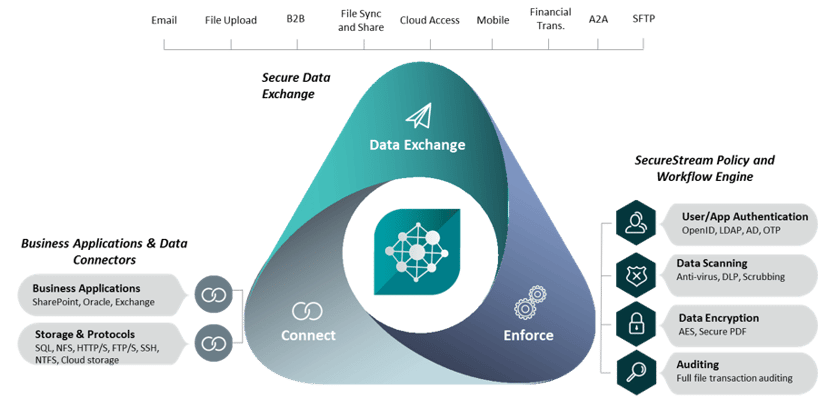 Safe-T Data's Secure Data Access (SDA)
Safe-T's Secure Data Access (SDA), a component of the Safe-T High-risk Data Security solution, is an advanced software-defined perimeter (SDP) and logical segmentation solution, purpose built to create a bulletproof data center perimeter, protecting all applications while enabling access.
Protecting information is absolutely necessary when protecting a community. If confidential or personally identifiable information is compromised, harm can be done. Security doesn't have to the difficult to deploy or use – take the steps today to increase your community's security posture with Safe-T Data's solutions.